South Italian Open 2005 Latin Finalist, Youth Canadian Champion 2003-2004, Italian Amateur 10 Dance Champion 2009 – 2012, IDSF World Cup 10 Dance Finalist 2008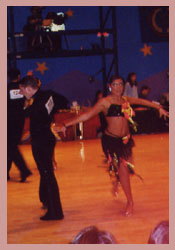 To my mind the look on the floor is the most important thing. When the couple looks good, it seems more confident, strong, it's more noticeable by the audience and the judges. Even before the couple starts dancing it already makes an impression of a good quality dancing and that can show a lot. A dancer with a perfect look usually feels some power psychologically attracts an attention from the side, that makes a performance much more interesting and bright. The perfect look it's not only about a costume. It's also about a hairstyle, the make up, which to my mind have to be very clear. There are lots of dancers that have various hairstyles that help them to stand out. There are some girls that use tails, tresses, some don't make their hair at all. I think it's all nice, because we need to be different and it's great to have an own style, but sometimes it can disturb to have a clear picture on the floor. So I think we should pay a lot of attention on how good our hair is made and how it matches with a dress, of course. Everything has to match. I don't think that a lovely modest dress would look good with an erocast, etc…
The same thing is about the make up: Like everything it has to have a sense. I personally think that creating the make up our goal is to point on the best things on our face, but it has to be quite natural. I don't think that an idea of making the face incredibly dark is really successful and looks beautiful on fair-skinned persons. Or for example, too much of lines or a lot of the white color on the girl eyes just to be noticeable, can be harmful.
About dresses, I personally found out that my own dancing changes according to the dress I have. It may be only some inner feeling, but it makes a big difference. So I can say that because of some experience I discovered which kinds of dresses feat me more than the others, make me feel confident and show my character.
[google_ads]
Even the color makes a big difference for me. I can say that I feel much better when I have a bright, usually warm color of the dress. So I think it shows how an own style appears. It depends a lot on the figure, height, tastes, character, etc… It's wonderful to create something new, that you know is your own! When we follow the look of the top couples at the big competitions, usually we have a feeling of the quality of their dancing even before they start to dance, whether we like the style they have or not.
Usually it's all clear, well matched and special, of course! So why don't we put more attention on creating our perfect look? To be on the top we are searching for the perfect look. All of us have our dreams, wishes, big and small goals. All of us have a trust in our hearts that all our dreams one day will come true. In this year 2006 I want to wish you to believe! To believe much more in everything you do, you dream and desire! I wish you to come in this New Year with a light in your open hearts, with a trust that the life is a fairy-tail and everything in it is possible! I wish that all the stars in the sky turn around you and bring you a huge happiness! Love, dream, enjoy, believe and be happy! From all the bottom of my heart, Nadine. (Note: It is illegal to reproduce this article without the expressed written consent from DanceWay.com Team & Nadiya Dyatlova)