According to Canadian Men's Lifestyle Magazing The Number One date movie that leads to intense romantic everning afterwards is timeless '80s classic Dirty Dancing – Your girlfriend will be singing about how she's had the time of your life by the movie's credits and you will find a renewed sense of love and fun at the end of the date Durty Dancing with a great cast: Jennifer Grey, Patrick Swayze, Jerry Orbach, etc., it was the first film to sell more than a million copies on home video, and the Dirty Dancing soundtrack generated two multi-platinum albums and multiple singles.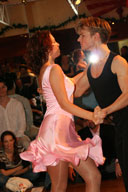 Jennifer Grey is Frances "Baby" Houseman, a New York socialite who meets dance instructor Johnny Castle (Patrick Swayze) and finds self-discovery and her own sexuality. The two must battle classicism, accusations and forbidden love against the backdrop of sultry dance lessons. Featuring smooth moves by Swayze and Grey and the famous line "Nobody puts Baby in a corner." There are date movies that find ways to reference sex in just the right way, maybe explicitly or via innuendo.
Do you want to know real life and love stories influenced by Dirty Dancing romance?
My name is Victoria Rafeiner and I live in Vienna, Austria. I am 23 years old and 168cm tall. I am dancing Latin and Standard since 8 years. I am a hardworking, ambitious and talented dancer, who wants to show quality on the dancefloor.
Vici found a partner Matthew Potter, who is decided to dance with Victoria after seeing her performance in Dirty Dancing and relocated to Vienna to be with her and her boyfriend at that time become a history since then. Email us with your Dirty Dancing romance story, send us photos and you may win Latest Ballroom Dance Novel "Wilde" by Katherine Warwick – romance fiction Novelist. Vadim suprised this writer with his Dirty Dancing moves, so she put his photo on the Novel's cover and she had a lots of questions for the this hot dancer:

Katherine: How do you discover whether or not she/he can do any moves? Vadim: By posture, shoes, people she is talking to. If she saw my dancing before and won't take my invitation it means she is not self secure. If she calmly joins me, she knows what she's doing.
Is a club the right atmosphere to teach a prospective woman/man you're interested in, dance steps? It certainly depends on the private intentions. If I want to get to know her more I will invite her to a private ballroom to feel freer. If it's a dance of the moment I will teach her right in the club. Learning steps in the middle of the street is also a good Idea. It's exciting and it draws audiences with applause. The ballroom dancer would look in a ballroom club, the bar frequenter in bars. For each of them there is specific place of comfort.
What DON'T you say to a woman/man who wants you to teach her some steps? It seems that you're not the right type for dancing. Don't worry, you're just born that way. It's not your fault! I would avoid discouraging a beginner by criticism.
What DO you say? It's getting there. It's getting better every time. I like your expression. Very good for the first time.
What if she/he has two left feet? Tell her to use her other left foot. If I am interested anyways, I would not focus on dance skill.
How do you ditch her/him? I have preparations for the world championships. I need my rest. If I am not on one to one date, then it is very easy. Just wait for the end of music. Is it better to fake it or be real, even if you don't know what you're doing/are a novice? Always be real, but do everything in a self secure mood. You can express yourself verbally in either way with no problem.
Does an experienced dancer like you ever ask a woman to dance just to be suave and so you can then SHOW her how to dance? Not really. I would prefer to dance with women who have a feeling for it. Showing someone how to dance can be destroying the party atmosphere sometimes. I would let her dance how she feels.
Your advice for novices? If you like it, do it. Before happiness and freedom will come on a high level dance floor, you must feel it in your daily life as well. I hope, Katherine, I helped you a bit with my answers. Can't wait to see the end result of your project.
Thank you, Vadim. You're an angel for all of your help!
http://www.katherinewarwick.com Where passion goes beyond the dance
"Dirty Dancing" was definitely a great "chic-flick" for its time and a lot of the energy of the film, making it very much like a musical. Obviously great performance from the cast, not just the acting, but their dancing skills as well. On the note of dancing, certainly the beautiful choreography is yet another topic that has added so much fascination to the 23 year-old film, made possible by Kenny Ortega who you still know today of "High School Musical Fame", and who also was the director behind "Michael Jackson's This Is It". It is still a strong film over two decades later, with an equally strong fan-base, and easily earns a "4 Star Rating". Dirty Dancing was a surprise box-office hit. The movie plays like one long, sad, compromise.