The virtual dance contest for "Take the Lead" poster
This Poster Contest is sponsored by "Take the Lead"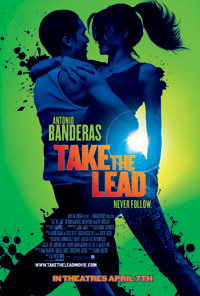 Open only to legal residents of the USA and Canada who are thirteen (13) years of age or older.

Contest Winners are … Ronald Naka, CA, USA and Sarah Miller, BC, Canada
You can find answer is on page http://www.danceway.com/article2006_9.html

Please contact us via email with following subject line: The virtual dance contest. Let us know your first and last name, mailing adress.

Contest Period: April 7 – July 15, 2006.Before emailing to danceway.com, you have to read, understood and agree to the Contest Rules.
Plus Worldwide:
Dance Article Promotion Program
Join DanceWay.com CONTENT YOUR WON'T FIND ANYWHERE ELSE! AMAZING FREE GIFT including dance photo, dance video or DVD. We're looking for a good quality DanceSport related articles. If you have an article that would be of value to our visitors and, the article is of "high quality and original content", we'd like to host and promote it for you under our Dance Article Promotion Program. This is a win/win situation as you gain additional exposure within dance community and we gain quality content for our visitors. We do request that you allow us exclusivity for the first 60 days of promoting your Dance Article. If you are interested in becoming a Premiere Article contributor for the directory, please contact us via email with following subject line: Dance Article Promotion Program Back to the News

Visit DanceWay.com 2006 DanceSport Articles Archieves
Visit DanceWay.com 2004 – 2005 DanceSport Articles Archieves