Dear Webmasters!
Link to Us
We are happy to exchange links with other dance related sites.
You are more than welcome to place a link to DanceWay site on yours.
Name: DanceWay
URL : http://www.danceway.com
After you have done so, email us:
and we will also link your site from ours.
You can link to us by copy and pasting into your html code:

1. For Text link Dance Way TM – Internet Dance Center copy and paste:

<a href="http://www.danceway.com"> Dance Way TM – Internet Dance Center </a>

2. For Logo Link :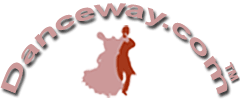 Right click on image and save image as …
and make an active link to http://www.danceway.com





















Right click on logo and save logo as …
and make an active link to http://www.danceway.com Back to Worldwide Links