Dance classes schedule with Katya Virshilas – Renegade Dance Studio
Call Katya now at 604-771-5045 Email: virshilas at yahoo.ca
Strictly Come Dancing's newest Pro-dancer (Season 7 UK). Katya Virshilas was 25-years-old when she was scheduled to make her Strictly Come Dancing debut as a professional dancer, partnering Phil Tufnell in the 2009 season. So You Think You Can Dance star Mark Calape has praised Katya Virshilas's choreography skills.
Katya has decided to cross over to the world of Salsa with a strong desire to contribute to Salseros of all ages who will benefit from her vast experience. A Salsa Instructor and a Latin Ballroom Instructor joined forces and worked together in an effort to share their passions of dance with their students. On the first series of the televised reality dancing show So You Think You Can Dance (UK) Katya was seen to have choreographed four routines for different aspiring dancing couples.

Katya Virshilas in the dance drama "Take The Lead" with Antonio Banderas
former BC and Ontario Amateur Latin Champion and Canadian Amateur Runner-Up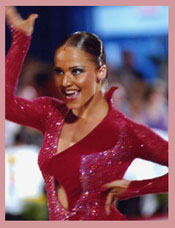 Katya Virshilas with Antonio Banderas, Alfre Woodard, Elijah Kelley, Dante Basco, Jenna Dewan in Inspired by a true story of internationally acclaimed ballroom dancer Pierre Dulane in the dance family drama "Take the Lead". Own it on DVD today.
Official Website: TheLeadmovie.com
Katya Virshilas been doing jazz dancing since she was five in Vilnius – Lithuania, and latin and ballroom since fourteen in Vancouver, British Columbia, Canada in Yasel DanceSport Academy, directors Viktor Yasel and Irina-Prodan Yasel, certified Ballroom Dance Instructors with 20 years of teaching experience.

Katya Virshilas become Amateur Latin BC Champion in 1999 – 2001 with her partner at that time Jason Tabachnicov. Then Katya announces plans on July 2001 about her decision to move to Toronto, Ontario, Canada, where she met her next dancing partner Dmitry Ilyushenov – former Russian DanceSport Latin and Ballroom Finalist.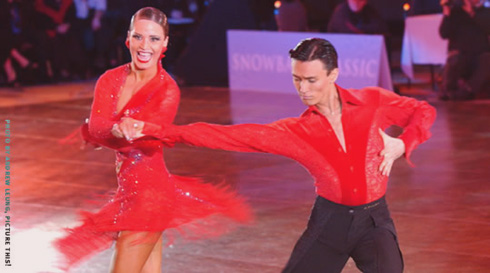 Later Katya Virshilas and Dmitry Ilyushenov – former Ontario Amateur Latin Champions 2002, BC Amateur Latin Champions 2003 and Canadian Amateur Finalists – decided to end their successful (Sept 2001- Oct 2003) partnership after making top 23 out of 75 at the Latin World Championships 2003 in St. Petersburg.
Katya went into an acting career in Hollywood, where her outstanding debut happened in the movie "Shall we dance" as Perky Girl with leading actors Richard Gere and Jennifer Lopez. Since then Katya played parts in Reefer Madness Musical(2005) – Female Dancer; Secret Central; Smallville; Alice, I think; (mini) TV Series "Dante's Cove" (2005) as Jacki; Edison (2005); Godiva's (2005) playing "Dancer Girl". Her latest dancing part in the dance drama "Take The Lead" with Antonio Banderas to star based on the true story of internationally acclaimed ballroom dancer Pierre Dulane (directed by Liz Friedlander). Check out the trailer of "Take the Lead," Mash-Up: 2nd Nature and the trailer Take the Lead – Dancing Back to the Articles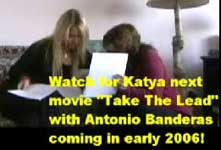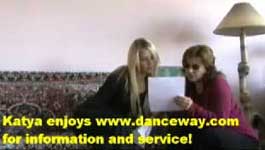 Students at Shiamak Davar's Institute for the Performing Arts (SDIPA) are preparing to burn up the dance floor, with Katya Virshilas' sizzling hot Salsa moves.
Shiamak presents the Salsa with Katya Workshops 2007 in selected Indian Cities only, which give you this unique opportunity to learn with the beautiful, accomplished and well-traveled Katya. To enquire about class details and check for availability, do call the SDIPA office at 6597 9630/31 or visit www.shiamak.com – Shiamak Davar is a world class performer, entertainment designer and visionary, recognized globally. This time round he is upping the ante by dancing with Katya Virshilas in annual "I Believe" show – click to watch the video – Shiamak dances with JLo choreographer: