The virtual dance contest for "Take the Lead" poster
Open only to legal residents of the USA and Canada who are thirteen (13) years of age or older. This Poster Contest is sponsored by "Take the Lead"

Correctly complete a question trivia quiz to be entered: the winners in Latin American and Ballroom programs of 2006 Italian Amateur Championships are … Answer is on page Article 2006. Please contact us via email
with following subject line: The virtual dance contest
Take the Lead Virtual Dance Challenge – Play to Win!
Sweepstakes begins on or about March 13, 2006 and ends on April 16, 2006. Open only to legal residents of the USA who are thirteen (13) years of age or older. See Official Rules for additional eligibility restrictions.
Antonio Banderas, Alfre Woodard, Elijah Kelley, Dante Basco, Jenna Dewan, Katya Virshilas in Inspired by a true story of internationally acclaimed ballroom dancer Pierre Dulane in the dance family drama "Take the Lead". Check out for more details, photos, link to the trailer on page Articles
In Theatres April 7, 2006
Official Website: TheLeadmovie.com
[google_ads_dance-gorizont]
Ekaterina Kozyreva: October 16, 1984 – March 26, 2006
Amateur Latin dancer Ekaterina Kozyreva, 22 years old, died in her flat in Vienna on March 26, 2006. Details are unknown at this moment. Her former partner is Thomas Brei, he passed away on March 2, 2006, it was an accidental death. They started dancing together in July 2003 as Amateur and they split on July 2005. They were 3rd in Austrian Championships 2005.

Another Austrian dancer was seriously injured in a car crash and is in a comma now. It's absolutely terrifying to hear about someone getting so badly hurt in an accident when they weren't being reckless. Hopefully, he recovers and can return to dancing. Dancers, please, drive carefully.

One of the best Austrian Amateur Latin dancer Thomas Brei passed away suddenly on March 2, 2006. Our deepest sympathy to his family and friends.

Here is what Thomas wrote about himself recently: "I´m 1.68 tall, brown long hair, an athletic body and a beautiful face :-). At the moment I´m 3rd in Austria- and I have very good possibilities to be the champion of Austria! I start to dance when I was 8 and dancing is my life!! I practice latin every day, also in the morning some physical preparation like running, pilate or ballet. In 2006 I would like to dance Austrian Championship, Blackpool, German Open, International, Austrian Open and also some IDSF competitions." When the person is so young and so full of potential and hope, the feelings of grief and loss could be overwhelming. For a chance to say good-bye see below:
Thomas Brei: January 28, 1983 – March 2, 2006
Ekaterina Kozyreva: October 16, 1984 – March 26, 2006

Thomas Brei funeral was held on Friday, March 10, 2006 at the Gaenserndorf Cemetery. There were over 200 people there: family and friends, dance competitors, officials and teachers of Austria, people from his small city that knew him, also press and admirers. All of his ex-dance partners were there. The funeral was very difficult, because Thomas Brei passed away suddenly.
The cause of death determined by an Autopsie
He died from CO gas poisoning. The forensic pathologist determined that Thomas was fit and healthy, only the dangerous CO gas that is odorless flowed out of the water heater and spread in small bath, cost him the life. We suggest everyone to check their pipes in the rooms for gas leakage. YOU HAVE TOUCHED THE HEARTS OF SO MANY. NOT ONE WILL FORGET TOMMY! Homepage "In Memory of Tommy": www.tommybrei.at.tt

Domenico Cannizzaro and Irina Novojilova decided to terminate their partnership (March 2006) after dancing together since July 2003. They are the Amateur 10 Dance Italian Champions 2005 and 2006. Irina Novojilova is sister of Anastazija Novojilova – current IDSF World Cup 10-Dance Champion
Joel Marasigan & Clara Shih decided to turn Pro, Richmond, Canada

Although their progress and success up to this point has been exceptionally fast, they have realized that reaching their full dancing potential will be a long, learning process requiring lots of hard work and determination.

They have gone through a lot unexpected experiences in their lives, but they're both still very passionate about each other and about dance.
Dancing with the Stars is the American version of the international smash hit series, Strictly Come Dancing. Every Thursday night, beginning January 5 at 8/7c, the couples will each perform either a Ballroom or Latin American dance and be judged by pros and the viewers at home: you can vote for your favorite couples by phone and online. Watch Dancing with The Stars on TV
Alexandre Chalkevitch & Larissa Kerbel, Toronto, Ontario
5 times undefeated Canadian Amateur Adult Standard Champions 2001 – 2005
Canadian dance stars chose the professional route and decided to turn Pro
Did You Agree With the Judges? You Be the Judge.
Watch Ballroom Bootcamp on TV /TLC.com/ on Fridays at 10 p.m. ET/PT
The Popularity of dancesport throughout the world
Strictly come dancing, BBC, Entertainment TV Show
Dancesport or ballroom dancing, however you call it, is covering the world with it's wings of beauty and enchantment. Audiences throughout the globe enjoy the atmosphere created by the dancers on a competitive floor, or as a solo showcase. The driving force behind the growing popularity of dancesport is this time a TV program. What could you find better than TV nowadays to get someting known?
The BBC in England started someting that every dancer should be thankful for: Strictly Come Dancing. This is the name under which the first program began in England. The program involves an interesting concept. Dancers are teamed up with celebrities to form a partnership in which every couple must dance all of the 10 dances included into a competitive program, if they make it to the next episode. Around 10 dancer-celebrity partnerships are formed and each one dances one dance solo on the floor. Between their performances video clips of their practice sessions are shown along with interviews of the participants. Anyway, most of us have probably seen this program in their country which was named probably a bit differently and had touches of individuality that suit the region more accordingly. If it's not yet in your country you can probably watch the channel of the closes country that has it, or wait until your local TV company purchases the rights for it from BBC. You can order The official behind-The-Scenes Guide to this hit TV series on this page.
The best thing about it is the viewer participation, the viewers and judges play a 50/50 role in the decision for who will not make the next round. The biggest profit is for dance schools, who attract up to 30% more newcomers in some of the countries. The dance schools' successes are most likely the danceworld's successes as well. In the countries where the dance teachers are holding quite strong associations, only the professional dancers are allowed to take part in the teaming up with celebrities program. Italy for example has Youth couples participating in the show. That's amateur dancers of age from 16 to 18. They've also got juveniles from 8 to 11 years old dancing performances while the celebrities take a break. Amazing popularity for dancing. Unfortunately in many of the countries the dancers taking part are not of a high level, which definetely puts down the image of ballroom dancing in front of people involved with other dance styles on a certain level. Maybe even the general mass of people will not think it is too spectacular because of the low capabilities of some of the celebrites put together with some unprofessional professionals. At the moment talking about the negative sides of this is in some way irrelevant because there are much more positive sides to it. Dancing has been waiting for this to happen for many decades and thank God this big push for dancing happened and hopefully will contitiue to draw people into the wonderful world of dance!
Christopher Hawkins, World Professional Ballroom Champion 2002 – 2004 with Hazel Newberry, and his dancing partner Justyna Kozinska get married
'Dancing with the Stars' has been very successful Over 20 million people tuned in to see famous star Kelly Monaco and former "Seinfeld" supporting player John O'Hurley in the finale of ABC's "Dancing with the Stars." Overall ABC's Dancing With The Stars has become the surprise hit of the summer since the first "Survivor" on CBS. Dancing With The Stars was a hit in Britain, where it is called Strictly Come Dancing.
The fantastic dancers show – Vadim Garbuzov and Kathrin Menzinger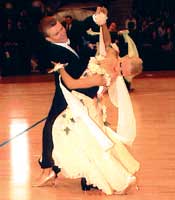 This couple is available for demonstrations and performances. Requirements to perform at your event: date and location of event, music system provided, min 10′ x 10′ dance floor dimensions, hardwood or concrete flooring preferable, dressing rooms preferable. Performers: National & International Championships, Fundraising events, Corporate events, Concert performances, Local Dinner Cruises, School presentations, Festivals. Choreographed by Ms. Berlizyeva The fantastic dancers show "DREAMY TALE OF LOVE & PASSION". Your guests would love it!