Interview with dance novelist Katherine Warwick
Exclusive Interview with
Zhanna Kens – dance costumes designer from Florida, USA
According to Canadian Men's Lifestyle Magazing The No. 1 date movie that leads to sex is timeless '80s classic Dirty Dancing – Katherine Warwick Interviewing Dirty Dancing Performer – provocative questions for hot dancer:

Do you think you can dance winner Benji Schwimmer on Regis and Kelly
Interview with Vadim Garbuzov and Kathrin Menzinger: 2005 Austrian Champions in all categories and World Youth 10 Dance Finalists 2005
Danceway: You are now 18 years old; still a very young age, and have already 10 years of dancing experience. How can you describe your past and future?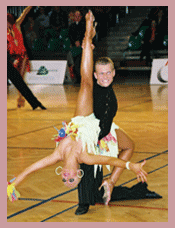 Vadim: I'm just crossing the border of my childhood into my so to say "grown up life" and I feel lot's of changes inside me. I went through; I don't know how to say, a lot or not a lot of difficulties up until my 18 years of age. Everybody has difficulties, just no one knows how to rate them to others. I'll just say some difficulties. First immigration, then the splitting of my parents…There were also some positive experiences I have lived through. I should stick to the subject and not get too personal. I will say that through the sports that I have done and because of my relatives that gave me a taste of their environments which were more academic I have met excellent people and was in strange and interesting circumstances. I have the positivity always in my mind and I can say that there are more good people and more positivity in life than negativity. If we didn't have anything bad that happened to us we would not get as much pleasure from the good.
[google_ads]
Danceway: It's good for me that I don't have to ask you too many questions, you have a lot of information to share with others. Makes my interviewing job at this moment easier. Please continue.
Vadim: I would like to thank all the people that there for me…, specially Double Dance – Original & Creative Dance Fashions Design and Uniseas Inc. – shipping and chatering specialists. The most important thing that I have accumulated is the motivation. I feel quite motivated at the moment and this is thanks to all of the trainers and the dancing partners I have had. They all had something special about them which I now often remember and try to use it. The trainers and especially dancing partners that I had were all very different, and through their difference I was able to understand from various sides that motivation and positivity are the most important things to achieve success in dancing. When I say motivation I connect this word with consistency and hard work. In the future I would like to achieve as much as possible in dance that my body and mind allow. In other words "to make my potential reality". Becoming a world champion would be good, it would satisfy some of my ambition. It is although not my end goal. My main goal is to be able to put my ideas into dancing and enjoy myself what I am dancing. This would create a personal dance style which would bring demonstration of unusual, beautifully executed movements. I received a lot pleasure when I implemented an idea into my dance and it looked good, and the people liked it. It is not necessary to be a winner to be enjoyed by the people who watch you and to be respected by the circles in the dance community who are specialists in the dancing field. At the moment it is not completely possible because of my competition and practice schedule, but the heavy schedule of competitions is part of making it to the top at this point. This will help in the future. Result wise I have to first do as much as I can in the Ten-Dance section. I am very interested in the field of showcasing which is the most developed in North America. It would be very cool to do some Latin and Ballroom shows combined. It's been a long time since I saw one of these. I would like to get to know other dance styles and bring it into our ballroom world. Doing some performances with stage effects: special lighting and possibly some singing. I've got many ideas. It's important that I keep my motivation and have luck on my side to go through with them.
Dance Way: Tell me please, on which one of the two: Latin or Ballroom you would specialize on?
Kathrin: At the moment I feel that I would never be able to let go of one of the disciplines. I love them both a lot. My result at the moment is quite evened out. Some competitions were better for Ballroom and Some were for Latin. One has to keep in mind that the level of the competitors in each of the disciplines can be different, which surely would influence the result. I myself could probably get a better jump-start in the Ballroom because of my ballroom aura and my dance partner Vadim Garbuzov looks. He have a classic blue eyes blond hair look and things like suits and ties look good on him which is more typical for ballroom. His shoulders are very suitable to have a nice ballroom hold. I think that latin offers possibilities to explore the boundaries a bit more. Anyway, as a conclusion my wish at this point would be never to drop any of the disciplines, possibly go deeper into one of them but still not forget and keep dancing the other one.
Danceway: As a conclusion can you tell something to the people who are starting their dance career?
Vadim: I will be simple. Do it if you like it, commit your soul into what you are doing and never loose your individuality.

Danceway: Thanks for the honest interview and for giving so much information compared to the little amount of questions I had.
Vadim: We know each other a while, so I feel free with telling you my thoughts. Maybe I would not be so open with a different interviewer. Danceway: Have a good day Vadim and Kathrin. Keep in touch. Kathrin: You too. Bye.. (Exclusive Interview for danceway.com, Dec 11, 2005)
Dancesport costumes design tips by Nadiya Dyatlova
Interview with Marco Cuocci and Nadiya Dyatlova, September 2005
Interview with Marco Cuocci and Nadiya Dyatlova, Youth Italian Couple – Fiesta Mediterranea IDSF Youth Latin Winners in Spain – Barcelona, June 2005; German Open 2005 Youth 10 Dance Finalists: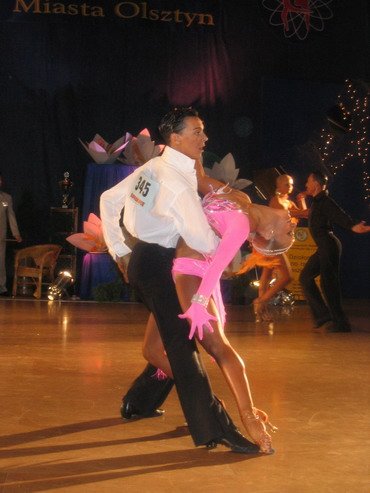 Danceway: How long you have been dancing together?
Marco: We started dancing together in August 2004 as Youth. Currently we are last year in Youth and we are dancing for Italy.

Dance Way: What is most important in preparation for the dance competition?
Nadiya: The way the person is dressed makes the first one of the biggest impressions on the others not only in casual life, but also in dancing. In dancing like in the normal life there are some stories that we try to show with special movements and emotions. Our dance – our story must have a sense. All the stories are different and that is why it is interesting for us to watch dancing. The dress for a dancer is very important because it\s a part of his story, his image that helps his own story to be understandable. To my mind the way a dancer looks makes the biggest impression about a personality and a quality of the performance on the judges and public. For example in the first rounds of the big competitions judges usually don\t have enough time to watch the quality of the dancing, but the image of the couple immediately makes good impression and the couple has much more chances.
Danceway: How do you choose design for your costumes?
Nadiya: My dresses are my personality! I create my dresses in my mind first. I try to put all my inside world into the designs I have, I point on my character, the way I understand dancing. I try to make dresses that I feel good in and that are comfortable not only to dance but also that help me to express myself on the floor, to show who I am, what I think and what I do. Sometimes the designs come very suddenly to my mind, sometimes I see them in my dreams, sometimes I think of them for a long time. Of course there are many things that I \d like to develop still and I\m working hard on each dress I make. For example before I go to order the dress I visualized I think well if the design I want to have would look good on me, would feet me. To my mind the biggest mistake of some dancers is that they don\t pay attention on the constitution of their body, on their own figure and make dresses like they think it\s popular or nobody else has this design…etc;

Danceway: What advice you would like to give for dancesport costumes design?
Nadiya: All people have different bodies and the same dress can\t look good on all the girls. So I think that all dancers should note the speciality of their figure and make dresses that really fit them. Only the dress that fits can make this fantastic impression. With the help of the dress we can point on some parts that we think are the most beautiful and hide the parts, that are not so attractive. For example if you have some extra weight, you can use dark colours that visually will make you slimmer. Short girls should not wear dresses with a closed neck, because visually they will look even shorter and the neck will look short. The vertical lines on the material "make you higher". For children it\s better to have simple basic dresses that make them look more clear , focused and natural. All of us has something special inside. My advice to everyone is try to make your dress as you see yourself from the side, as you\d really like to look, that you will feel comfortable in. Use your own character and personality, because no one can make better for you than you can make for yourself! All the best and good luck in creating your new style!. (Exclusive Interview for danceway.com)
Interview with Anton Lebedev and Anna Borshch, February 2005
Interview with Anton Lebedev and Anna Borshch – Canadian Adult Standard 2004 runners-up in: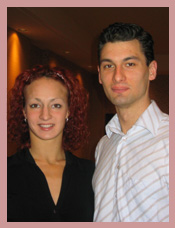 Danceway: Congratulations Anton and Anna with great results together. How long you have been dancing together?
Anna: Since March 1st, 2004, in total I am dancing since 8 years old and Anton since 6 years old. Now we are allowed to teach as a second couple in Canada in Ballroom, and we are teaching at the Viva Dance Studio in Toronto.

Dance Way: What is your favourite ballroom dance?
Anton: Out of all the dances that we do, we love tango the most. Anna: Yes, definitely tango.
Danceway: What is your biggest dream?
Anton: To represent Canada to the best of our abilities. I am 24 and Anna is 18, and we hope that we have good competitive career ahead of us. Anna: And I will visit DanceWay.com often from now on to check dance news in Canada and BC. (Exclusive Interview for danceway.com)
Interview with Vadim Garbuzov and Kathrin Menzinger, September 2004
Interview with Vadim Garbuzov and Kathrin Menzinger – National Youth Champions:
Danceway: How did you get interested into dancing?
Kathrin: I started to dance in 1995, from 1993 to 1996 I also did ballet, but when I started dancesport seriuosly, I skipped regular ballet lessons. Besides ballroom dancing: latin and standard, now I am doing some other syles of dancing, including ballet on the ocassion of trainings camps or seminars for some days (hip hop, jazz dance, modern ballet and step).

Dance Way: What kind of a relationship do you have with your partner?
Kathrin: I was very excited about the try-outs with Vadim in May 2004 and now I am really pleased with our results and progress. Our latest results – we won the Youth Standard competition with all ' 1 ' in the final round in III. Tisza Part Open 2004 – 25 Sept, Hungary – Kistelek! We got 3rd in Youth Latin and 10th in Adult Standard, so it was a very successful weekend again for us in this IDSF World Ranking Tournament.
Danceway: What do your think about your new partnership?
Vadim: Our dance results are rising and we continue working as hard as we can in elegant ballroom dancing studio Double Dance, competitors are always welcome here for dance practice, also professional dressmakers help available – to design and make custom made costumes and dance wears. (Exclusive Interview for danceway.com)
Grand Ball Competition Notes, 18th November 2003, Editor: Kyla Ramsay
THE GRAND BALL 2003: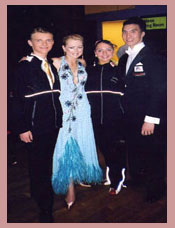 Dance Way: Andy and Wendy Wong ran a very well organized and planed competition, with all levels showing considerable skill and talent. After all, ballroom dancers spend great deals of time and money to reach their peak at competition time.

Dance Way: If you go to the Grand Ball competition and see it, you'll be back, if not to compete, you will be out there yourself! This year's 10th edition was special for 16-year-old DanceSport competitors Vadim Garbuzov and Nadiya Dyatlova.
Danceway: As winners of last years Junior Championship in both Standard and Latin at the Grand Ball 2002, they challenged themselves considerably this year by entering both Under 21 Championship and Adult Open Latin and Standard categories.

Danceway: As winners of Under 21 Championship Standard Vadim and Nadiya were honored to perform in The Showcase of Champions event, where they presented "Illusion" a composition choreographed with a relaxing and romantic flow. Final results also included second in Under 21 Championship Latin, 7th in Adult Open Standard and 8th in Adult Open Latin. Persistence and passion are the qualities that got Grand Ball where it is, thanks to Andy and Wendy Wong for amazing event!
Interview with Artur Lavine, February 2002
Interview with Artur Lavine – one of the BC competitors in the under 21 PreChampionship Latin: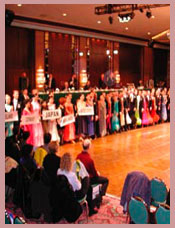 Danceway: How did you get interested into dancing?
Artur: It was actually the summer before my first year of high school. I was really bored during the summer and enjoyed dancing at home. So I decided to try one of these ballroom group classes, which lead me to entire new experience

Dance Way: What kind of a relationship do you have with your partner?
Artur: Our relationship isn't as loving as it was with my previous partners' but we're getting along just fine.
Danceway: Since you practice six times a week does it get tiring?
Artur: Of course, it's really tiring. After each practice the only thought on your mind is getting a shower and going straight to bed. Danceway: What to do you enjoy about dancing? Artur: I like to work hard, and I mean physically. I enjoy practicing until I'm covered in sweat, and have no more energy go continue.

Danceway: What do your friends think about you dancing Ballroom?
Artur: My friends are amazed, and just can't wait to attend a competition where I'd be performing, so they can cheer for me. Danceway: Do you have goals for your future-dancing career? Artur: Well I'd like to continue working as hard as I can, and be the best. As for my career in dancing, I have no idea, so I guess I'll just have to see and wait. (Exclusive Interview for danceway.com, photo – courtesy of David Marasigan)
Introducing Ronald and Ekaterina Michtchenko, October 2001
Katie Virshilas: I would like to make a short announcement on behalf of myself (Katie Virshilas) and Jason Tabachnicov, my former partner: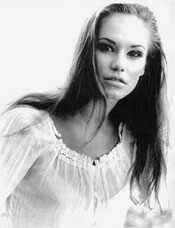 This BC Championships has been our last competition in Vancouver for Jason and me. The reason for this is that as Jason and me are about to graduate we went different direction. A few months ago I applied to the university of my dreams, to study Dance, Choreography and Theater in Toronto at Ryerson University. I didn't think that my acceptance ever be approved but it did and so with this sad yet happy news I had to hurt the people that loved me and cared about me the most.

I would like to take this rare opportunity with the Team of danceway.com to thank all the people that were there for me from the start: Jason who was my partner for almost 4 years, all DanceWay.com Team, Natalia G. for web promotions, Victor and Irina Yasel, Theo Peters, Andy and Wendy Wong, Barbara Child, Brian Dudley, Jim Fraser and BCADA of course. And last but not least my family: my brother, my father and my mother. Without you mom I would be nothing today, you were my support all those years, thank you very much.
Jason and me will be continuing our competitive careers. Thank you so much danceway.com team for your attention and love! And for everyone: keep on dancing and see me at www.danceway.com (contact danceway.com for more details)

Jason Tabachnicov and Katie Virshilas, May 2001
Interview with Katie Virshilas – Amateur Latin BC Champion 2000 and 2001: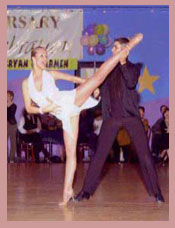 Danceway: How did you get interested into dancing?
Katie: I've been doing jazz dancing since I was six in Israel

Dance Way: What kind of a relationship do you have with your partner? I mean you spend so much time together.
Katie: Strictly professional, although we know a lot about each other.
Danceway: Since you practice six or seven times a week does it get tiring?
Katie: It's very tiring, mentally and physically. The hardest thing is to combine school with so much practicing. Congratulations from Dance Way Team! (Exclusive Interview for danceway.com)

BC's new Junior dance generation, September 2000
Vadim Garbuzov and Maria Yasel both former British Columbia (province of Canada) champions started their promising partnership in August 2000: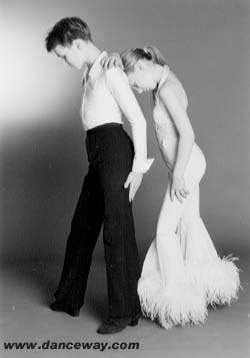 Danceway: What is your most memorable moment or competition as a new couple?
Vadim: I think me and Maria would agree that our most memorable competition and moment was the Ljubljana Open in Slovenia because we made into the six-couple final and got fifth place after only three days of practice.

Danceway: Wow! How did you guys learn your routines and everything in only three days?
Vadim: Well, you see I was in Ukraine for a while to see family. I was having a good time until somebody told me that my previous partner has quit Ballroom Dancing and started ballet. So I heard that Maria was available and I sent her videos with my routines. Maria: I had about a week to learn his routines before Slovenia. I've learned that it's harder to learn routines from videos rather than my father teaching them to me.
Danceway: What are your most recent results and where, at what competition?
Vadim: We won both Junior Open Standard and Junior Open Latin at the New Stars Dancesport Club Championship in Everett, USA. Danceway: Do you use the internet? Maria: Of course! I play online games and other stuff like that. Vadim: I like to check out dancing sites.

Danceway: What is your favorite website?
Vadim: (Laughs) I assume I have to say www.danceway.com. It is a good site. I like it because it's got free dance e-mail, free internet postcards, free monthly newsletter, dance dictionary, danceway forum and a bunch of other stuff. Maria: I guess see you at www.danceway.com
Dancing Stars 2012 ~ Petra Frey & Vadim Garbusov