Danzing Stars 2013 – Susanne Hirschler and Vadim Garbuzov – Langsamer Walzer – "You Light Up My Life":
Danzing Stars 2013 – Susanne Hirschler and Vadim Garbuzov – Samba – "Angelina":
Danzing Stars 2013 – Susanne Hirschler and Vadim Garbuzov – Paso Doble – "Bring Me To Life":
Danzing Stars 2013 – Susanne Hirschler and Vadim Garbuzov – Slowfox – "Sweet About Me":
Danzing Stars 2013 – Susanne Hirschler & Vadim Garbuzov – Quickstep, March 8th, choreography to song by the Beyoncé – Single Ladies (Put A Ring On It):
Danzing Stars 2013 – Susanne Hirschler & Vadim Garbuzov (Gruppe) – Mambo:
Vadim GARBUZOV and Kathrin MENZINGER – DanceSport Team Austria – 2013
Dancing Stars – Dolly Buster and others
Vadim Garbuzov in Wikipedia ( in German) – 2013
World Freestyle Latin 2012 Finalists – Vadim Garbuzov and Kathrin Menzinger, tribute to Michael Jackson
Salsa Gruppe
2012-05-18 Petra-Vadim Avatar:
Heer4U – Recruit and dancers – will start by Vadim
Staatsmeisterschaft Latein 2012 – Vorrunde – Kathrin Menzinger and Vadim Garbuzov
Staatsmeisterschaft Latein 2012 – Semi-Finale – Vadim Garbuzov and Kathrin Menzinger:
2012-04-19 Dancing Stars Karaoke – Chili
2012-05-04 Petra-Vadim Jive:
Dancing Stars 2012 ~ Petra Frey & Vadim Garbusov ~ Mambo zu "Craze":
Ausschnitt aus der Sendung "Dancing Stars 2012″ am 4. Mai 2012, ORFeins http://www.orf.at/ "V.I.P."
2012-05-04 Petra-Vadim Mambo – Dancing with the Stars:
2012-04-27 Gruppe – Charleston Dance Performance – Show – Dancing with the Stars:
Bitte votet für, Paar 05: Petra Frey & Vadim Garbuzov (090 10 59 09 05)
ES KANN BEREITS ANGERUFEN WERDEN!
Please vote for, Pair 05: Petra Frey & Vadim Garbuzov (090 10 59 09 05)
2012-04-27 Petra-Vadim Quickstep in Vienna, Austria, TV Program Dancing Stars ORF TV Thek:
Petra-Vadim Rumba – April 20th, 2012 in Vienna, Austria, TV Program Dancing Stars ORF TV Thek:
Dancing Stars 2012 – Gruppe – Tango Argentino:
ORF / Dancing Stars 2012, Petra Frey & Vadim Garbuzov, "Que Sara Sara" (Wiener Walzer):
ORF / Dancing Stars 2012, Petra Frey and Vadim Garbuzov, "Bolero" (Paso Doble):
First Viennese waltz world championship in Austria Trend Hotel Savoy Vienna
Erste Wiener Walzer Weltmeisterschaft im Austria Trend Hotel Savoyen Vienna (in German)
Organization: Bibi Odegaard-Jung – Arthur Murray, Presentation: Alfons Haider
ORF / Dancing Stars 2012, Petra Frey and Vadim Garbuzov – "Dance With Me" (Tango):
ORF / Dancing Stars 2012, Vienna, Austria, Week Two, Group Dance – "Bailamos" (Salsa):
ORF / Dancing Stars 2012, Petra Frey and Vadim Garbuzov – "Sway" (Cha Cha Cha):
Today, the Officers' Ball is not only a meeting place for Viennese society but also for representatives of European politics, economy, celebrities. Ball der Offiziere – Fotoshooting mit Dancing Stars des ORF:
The "Alt-Neustädter Ball", better known as "Officers' Ball", has a very long tradition. People of all ages from various social and professional backgrounds enjoy getting together at this splendid event.
Dancing Stars 2012, Austria, Vienna, March 2012 – Petra Frey and Vadim Garbuzov
The Baseballs mit Hello – Gruppentanz der Promis – (Dancing Stars 2011):
Gruppentanz (Tanz) – American Smooth – (Dancing Stars) :
Gruppentanz * Alle sieben Paare tanzen einen Charleston:
Alfons Haider und Vadim Garbuzov mit einem Jive * DANCING STARS 2011:
Alfons Haider und Vadim Garbuzov (Tanz) – Wiener Walzer (Dancing Stars 2011):
Alfons Haider und Vadim Garbuzov mit einem Langsamen Walzer * DANCING STARS 2011:
Alfons Haider und Vadim Garbuzov (Tanz) – Tango (Dancing Stars 2011)
Alfons Haider und Vadim Garbuzov mit einem Paso doble DANCING STARS 2011
Alfons Haider und Vadim Garbuzov – Cha-Cha-Cha (Dancing Stars 2011):
Who will be dancing star 2011? Alfons Haider und Vadim Garbuzov im Ö3-Wecker – Heads up for the new Dancing Stars Season starting March 11, 2011, Vienna, Austria:
Dieter Chmelar und Kathrin Menzinger (Tanz) – Slowfox (Dancing Stars 2011)
Pamela Anderson was ousted from the hit ABC TV show "Dancing With the Stars" 2010. Tuesday's results show also featured a musical performance by Train and a dance performance by the stars of Cirque du Soleil's "Viva Elvis" show. Five celebrities remain in competition: Singer Nicole Scherzinger, Olympic figure skater Evan Lysacek, actress Niecy Nash, sportscaster Erin Andrews and football star Chad Ochocinco.
Fresh from the 2010 Olympic ice in Vancouver, where he Wins Gold, 2009 World Figure Skating Champion Evan Lysacek paired with pro dancer Anna Trebunskaya on the Dancing with the Stars TV Show.
In the spring of 2010, Evan will also be touring as a member of the cast of Stars on Ice.
Erin Andrews is Major League Baseball sideline reporter, including the Monday Night Baseball telecasts. Erin Andrews and Maksim Chmerkovskiy on Dancing With the Stars While there still wasn't much of anything to confirm or deny recent romance rumors (as the two arrived separately), it does go to at least show that Erin and Maks aren't so tired of each other after rehearsing that they want to spend every waking second alone
Would people take "Livin La Vida Loca" less seriously now?
Dancing with the Stars tribute to Michael Jackson Oct 20, 2009:
Bright furnished room for rent in the building of Vienna's best dancesport studio. Hello, dear dancers. Dancesport competitor in the apartment adjoined to Labi studio needs a roommate 510 Euro a month plus utilities. Min 3 month term. Half of month damage deposit is required. Close to buses and city center. About 75sq meters is the whole flat. In excellent condition. Furnished. Renovated. Great opportunity to train and be in the center of dance information. *** min 3 month Lease required. No Smoking, clean and responsible. Please refer us to others that may be interested. Call Birgit Odegaard-Jung, +43-1317-0147 studio, +43-676-359-3214 mobile, office@labi.at

Vadim Garbuzov and Zsofia Kovalik split
The dance couple Vadim Garbuzov and Zsofia Kovalik, decided to split. They thank Austrian Amateur dance association and their main coaches Lasse and Bibi Odegaard, Graham Oswick and Anne Gleave for the continuous care and input. Vadim with former partner Kathrin Menzinger was a IDSF World Youth 10 Dance finallist, top Ten in Amateur IDSF World 10 Dance, 7th in IDSF World Cup 10 Dance

Congratulations to Victoria, she found a dance partner Matthew Potter, he came all the way from London, UK , he is born in Australia and they are looking forward to compete to the best of their ability!

YouTube Broadcast – Latest DanceSport News, Videos: Latin Cha-cha, Rumba, Samba, Jive, Pasodoble and Ballroom 2008, Salsa and Mambo
Former World Ten Dance Finalist Irina Novozhilova got married Sept 2007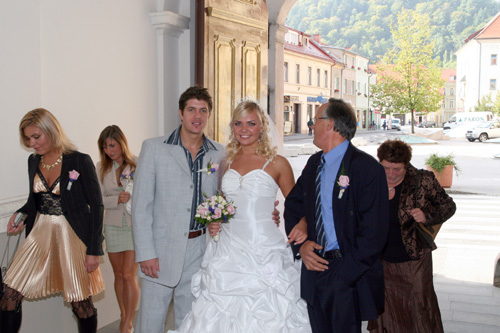 Ballroom Dress for Sale – SOLD
Blue Saffron angel skin ballroom dress without sleeves, stoned with Swarovski crystal. Size: 91 62 93. Fabric from CHRISANNE – well-known brand for dress makers globally. Beautiful smooth dress with V-neck. – SOLD Resources for DanceSport Athletes

The Doping Control Video by WADA (World Unti-Doping Agency) is an educational film demonstrating urine sample collection for in-competition doping control, according to the International Standard for Testing and the Guidelines:

In competition Doping Control Video – click here to watch Hairspray Movie: You Can't Stop The Beat (2007) – www.hairspraymovie.com
Click here to visit Hairspray movie official website – on DVD Now!

Editorial Reviews: Official trailer of the movie played by John Travolta, Nikki Blonsky, Christopher Walken, Michelle Pfeiffer, Brittany Snow, Elijah Kelley, Allison Janney, Zac Efron, James Marsden, and Queen Latifah and directed by Adam Shankman.
Dance Novel "Wilde" by Katherine Warwick 2007
Editorial Reviews. Book Description: Anna wants to leave behind the confining life that will soon crown her queen, and dance with the best in America. She's found him – a maverick dancer with a reputation for drive and perfection. Anna has her eyes, her heart and her future set on Jamie Wilde. Jamie specializes the moves but he's never been good with women. When his partner drops him, he's stunned. Then an exotic beauty shows up on his doorstep with an offer too enticing to resist, and he signs a contract without reading the fine print. It isn't long before he realizes Anna has him by the royal leash. Wills clash, love fights destiny and loyalty demands the ultimate submission sparking fires that burn hot, on and off the dance floor. Fairy tales can come true. This is work of fiction. Names, characters, places and incidents are either a product of the authour's imagination or are used fictitiously, and any resemblacne to actual persons, living or dead, business establishments, events or locales is intirely coincidental.
A Grove Creek Publishing. Book design: Julia Lloyd.
Latest Ballroom Dance Novel "Wilde" by Katherine Warwick:
June 11th, 2007. Vadim Garbuzov is looking for a new Ten-Dance partner
Vadim's achievements during his last partnership have been Austrian 10-Dance Champion 2006, World 10-Dance Semifinalist 2006 and World Youth Finalist 2005, …
See Vadim's partnership history on his personal website www.benom.com Vladimir Slon and Bianka Zubrowska decided to dance together for personal reasons (they are in love) starting June 11, 2007. Because of this decision Bianka split with Vadim Garbuzov without notice. Vladimir split with Jasmina Arko from Slovenia on May 17, 2007

Jasmina Arko from Slovenia is looking for a new partner:
Hi! I am 22 y.o., 160 cm high (without shoes) and I dream…I dream about dancing with 10 dance partner with strong ballroom, or ballroom partner with nice, warm personality, who respect his partner…and has similar results in past as I have (6 times national champion, finalist, semi finalist and twice 1/4 finalist of world championships in LA, 10 dance and ballroom)… Have you the same dreams??? Let's try together…but not dreaming…dancing and working hard! With good work, fair and nice partnership and patient we can together touch the stars and make our dreams to come true… Call 0038641507850 or Email: jessy@siol.net Waiting for you… Jasmina

March 8, 2007: Canadian Amateur Latin couple Vlada Semenova and Alexey Karaulov split. One of their best results was the Final of the Snowball Classic IDSF International Open Latin 2007, top 25 in Youth Latin Blackpool Dance Festival 2006, Finalist of the National Closed Russian Championship 2006. Both, Vlada and Alexey, are looking now for new partners. Alexey Karaulov email: alexandvlada@hotmail.com

Vlada, with her previous partner Valentin Voronov representing Russia were placed top 14th in the Youth Latin and top 30 in Amateur Rising Star Latin at the Blackpool Dance Festival in May of 2005, 4th in the Celtic Classic Amateur Rising Star, Tralee – Ireland. Vlada Semenova can be contacted at swan_lake26@hotmail.com
Ladies, we have more men than ladies for our classes!
This is a rare occurrence. So please take advantage and consider coming to the Quick Step Bronze/Silver class with Irina Prodan-Yasel
Announcement by Yasel DanceSport Acamedy
#2 – 4603 Main Street, Vancouver, B.C., Canada
Phone: (604) 872-8713/ (604) 872-0304Canadian reigning 10-Dance Champions Sharone Levit and Julia Vokhmina split:
Vadim Garbuzov and Kathrin Menzinger decided to terminate their partnership ( January 2007 ) after dancing together since June 2004. They are the Top 10 in IDSF World 10 Dance 2006, IDSF European Union 10 Dance Finalists 2006 and World Youth 10 Dance Finalists 2005:

Movie: Step Up (2006) – OWN IT ON DVD December 19th
Editorial Reviews: Step Up happily joins the long line of movies intoxicated by sexy bodies in motion. When an overachieving dancer (Jenna Dewan, Take the Lead) at an East Coast art school loses her partner just before a big showcase, her only possible replacement is a young tough (Channing Tatum, She's the Man) doing community service as a janitor. More than anything, Step Up shows off hunky Channing Tatum. Step Up also features Rachel Griffiths (Six Feet Under) as the requisite tough-but-loving-authority-figure. There is some really original music here, some great dancing, and a wonderful plot, emphasizing the importance of friendships. It's a heartwarming story of success in the face of adversity, and tragedy. A great family film that teens especially will love. The movie had a great plot and a beautiful love story. The story is warm, and meaningful, with excellent character development, plot, acting, dancing, and music. Everyone deserves a chance to follow their dreams, but some people only get one shot. Nora (Jenna Dewan) is a privileged ballet dancer and the only thing standing in the way of her future is finding a great dance partner for her showcase. Tyler (Channing Tatum) realizes he has just one performance to prove that he can step up. Step Up – IFILM Exclusive: Training Montage:
Click here to visit Step Up official website / movie directed by Anne Fletcher /

Peter Maxwell to step down as Grand Slam Chair, increase his work for IDJTA
Mad Hot Ballroom – Amazon, Save up to 30% on bestseller

New dance classes with Katya Virshilas – Yasel DanceSport Academy
Plaza News – Edita Daniute Positive Doping Result At The Goc Stuttgart
Banker Now Regards $15.4 Million Lessons As a Serious Misstep
Ms. Wong Sues Dance Coach Who Called Her 'a Cow'
Pursuit of Ballroom Glory / by By KATE LINEBAUGH /

You don´t have to be reach … / article for dancers by Nadine /

Antonio Banderas, Alfre Woodard, Elijah Kelley, Dante Basco, Jenna Dewan, Katya Virshilas in Inspired by a true story of internationally acclaimed ballroom dancer Pierre Dulane in the dance family drama "Take the Lead". Check out for more details, photos, link to the trailer on page Articles

Official Website: TheLeadmovie.com
Ekaterina Kozyreva: October 16, 1984 – March 26, 2006
Amateur Latin dancer Ekaterina Kozyreva, 22 years old, died in her flat in Vienna on March 26, 2006. Details are unknown at this moment. Her former partner is Thomas Brei, he passed away on March 2, 2006, it was an accidental death. They started dancing together in July 2003 as Amateur and they split on July 2005. They were 3rd in Austrian Championships 2005.

Another Austrian dancer was seriously injured in a car crash and is in a comma now. It's absolutely terrifying to hear about someone getting so badly hurt in an accident when they weren't being reckless. Hopefully, he recovers and can return to dancing. Dancers, please, drive carefully.

One of the best Austrian Amateur Latin dancer Thomas Brei passed away suddenly on March 2, 2006. Our deepest sympathy to his family and friends.

Here is what Thomas wrote about himself recently: "I´m 1.68 tall, brown long hair, an athletic body and a beautiful face :-). At the moment I´m 3rd in Austria- and I have very good possibilities to be the champion of Austria! I start to dance when I was 8 and dancing is my life!! I practice latin every day, also in the morning some physical preparation like running, pilate or ballet. In 2006 I would like to dance Austrian Championship, Blackpool, German Open, International, Austrian Open and also some IDSF competitions." When the person is so young and so full of potential and hope, the feelings of grief and loss could be overwhelming. For a chance to say good-bye see below:
Our thoughts and prayers are with you, Thomas and Ekaterina We convey to you our deepest and heartfelt sympathy on the death of Thomas Brei and Ekaterina Kozyreva
Thomas Brei: January 28, 1983 – March 2, 2006
Ekaterina Kozyreva: October 16, 1984 – March 26, 2006

Thomas Brei funeral was held on Friday, March 10, 2006 at the Gaenserndorf Cemetery. There were over 200 people there: family and friends, dance competitors, officials and teachers of Austria, people from his small city that knew him, also press and admirers. All of his ex-dance partners were there: Kinga Machnik, Ekaterina Kozyreva (2 years long) and Kerstin Cap (7 years long). The funeral was very difficult; Thomas Brei passed away suddenly.
The cause of death determined by an Autopsie:
He died from CO gas poisoning. The forensic pathologist determined that Thomas was fit and healthy, only the dangerous CO gas that is odorless flowed out of the water heater and spread in small bath, cost him the life. We suggest everyone to check their pipes in the rooms for gas leakage. YOU HAVE TOUCHED THE HEARTS OF SO MANY. NOT ONE WILL FORGET TOMMY! Homepage "In Memory of Tommy": www.tommybrei.at.tt

Domenico Cannizzaro and Irina Novojilova decided to terminate their partnership (March 2006) after dancing together since July 2003. They are the Amateur 10 Dance Italian Champions 2005 and 2006. Irina Novojilova is sister of Anastazija Novojilova – current IDSF World Cup 10-Dance Champion
Joel Marasigan & Clara Shih decided to turn Pro, Richmond, Canada

Although their progress and success up to this point has been exceptionally fast, they have realized that reaching their full dancing potential will be a long, learning process requiring lots of hard work and determination.

They have gone through a lot unexpected experiences in their lives, but they're both still very passionate about each other and about dance.
Dancing with the Stars is the American version of the international smash hit series, Strictly Come Dancing. Every Thursday night, beginning January 5 at 8/7c, the couples will each perform either a Ballroom or Latin American dance and be judged by pros and the viewers at home: you can vote for your favorite couples by phone and online. Watch Dancing with The Stars on TV
Alexandre Chalkevitch & Larissa Kerbel, Toronto, Ontario
5 times undefeated Canadian Amateur Adult Standard Champions 2001 – 2005
Canadian dance stars chose the professional route and decided to turn Pro
Did You Agree With the Judges? You Be the Judge.
Watch Ballroom Bootcamp on TV /TLC.com/ on Fridays at 10 p.m. ET/PT
The Popularity of dancesport throughout the world
Strictly come dancing, BBC, Entertainment TV Show
Dancesport or ballroom dancing, however you call it, is covering the world with it's wings of beauty and enchantment. Audiences throughout the globe enjoy the atmosphere created by the dancers on a competitive floor, or as a solo showcase. The driving force behind the growing popularity of dancesport is this time a TV program. What could you find better than TV nowadays to get someting known?
The BBC in England started someting that every dancer should be thankful for: Strictly Come Dancing. This is the name under which the first program began in England. The program involves an interesting concept. Dancers are teamed up with celebrities to form a partnership in which every couple must dance all of the 10 dances included into a competitive program, if they make it to the next episode. Around 10 dancer-celebrity partnerships are formed and each one dances one dance solo on the floor. Between their performances video clips of their practice sessions are shown along with interviews of the participants. Anyway, most of us have probably seen this program in their country which was named probably a bit differently and had touches of individuality that suit the region more accordingly. If it's not yet in your country you can probably watch the channel of the closes country that has it, or wait until your local TV company purchases the rights for it from BBC. You can order The official behind-The-Scenes Guide to this hit TV series on this page.
The best thing about it is the viewer participation, the viewers and judges play a 50/50 role in the decision for who will not make the next round. The biggest profit is for dance schools, who attract up to 30% more newcomers in some of the countries. The dance schools' successes are most likely the danceworld's successes as well. In the countries where the dance teachers are holding quite strong associations, only the professional dancers are allowed to take part in the teaming up with celebrities program. Italy for example has Youth couples participating in the show. That's amateur dancers of age from 16 to 18. They've also got juveniles from 8 to 11 years old dancing performances while the celebrities take a break. Amazing popularity for dancing. Unfortunately in many of the countries the dancers taking part are not of a high level, which definetely puts down the image of ballroom dancing in front of people involved with other dance styles on a certain level. Maybe even the general mass of people will not think it is too spectacular because of the low capabilities of some of the celebrites put together with some unprofessional professionals. At the moment talking about the negative sides of this is in some way irrelevant because there are much more positive sides to it. Dancing has been waiting for this to happen for many decades and thank God this big push for dancing happened and hopefully will contitiue to draw people into the wonderful world of dance!
Christopher Hawkins, World Professional Ballroom Champion 2002 – 2004 with Hazel Newberry, and his dancing partner Justyna Kozinska get married
Over 20 million people tuned in to see famous star Kelly Monaco and former "Seinfeld" supporting player John O'Hurley in the finale of ABC's "Dancing with the Stars." Show has become the surprise hit since the first "Survivor" on CBS and was a hit in Britain, where it is called Strictly Come Dancing.