Wedding party dancing planner:
Bride and Groom's first dance: best to select a composition of no longer than 2 – 3 minutes per dance, the dance floor should be cleared at least 3 minutes in advance by a polite announcement
Bride's dance with father, Groom's dance with mother: extended families created from remarried parents for example the step parent's, and natural parents of either family can all dance together.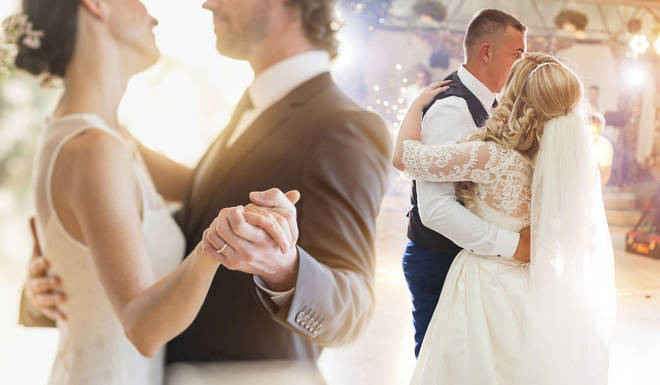 Guests dancing: it is good idea to play dance music all night long.
How can you avoid missing the highlight of the evening? You must learn to dance! Take lessons, study a book or a DVD/video, and go out on the dance floor prepared. Learn how to dance in the privacy of your home with dance professionals:
[google_ads]
For Latin dance Compositions click here: Samba Open Routine
Creative Ways to Celebrate Valentines Day
Try something new and totally different: take your dance moves from the leaving room to a real ballroom dance floor
Fun and romantic suggestion to create a special Valentine's Day for you and your sweetheart: take your lady for a dance class at the ballroom dancing school. How about a private dance lesson for the two of you at your home? And if you single, instead of hiding out, attend the dance class, there are classesfor all ages and preferences.
Gift certificates from Ballroom Dance Studio: one such wonderful occasion is when two of your friends get engaged on Valentine's Day. ( if you feel as happy as they do and you want to offer them something they will always remember) A great idea is to give the couple something that can help them during their wedding – to plan Bride + Groom's first dance
[google_ads_dance-gorizont]
Click Here to Buy Valentine's Day Posters!
Beach Wedding Favors – get the most beautiful Beach Wedding Favors and thanksgiving gifts for your wedding party attendants with a full range of Beach wedding favors at www.partyfavormall.com
Sandy ocean side beach walks, luxurious accommodations, and romantic restaurant dining with a stunning view are in your future when you plan a destination honeymoon vacation to Vancouver, North Vancouver and Burnaby, BC, Canada. Want to make your love life more romantic? FirstStayBC.com provides a wide range of furnished accommodation, from rooms to 1, 2 and 3 bedroom …all rentals are centrally located in the prestigious areas, near public transports, shopping and business districts: