Notes by Mr. Fukushima, October 20, 2007 , Tokyo, Japan – Actually I was not in the mood to go to the competition because I have a lot of things to do, but in fact I found am enjoying a lot this competition to my surprise! I almost forgot the time and suddenly the end of the competition came!
DSF World Amateur 10 Dance Championships – 30 countries participated in this competition and the winner was couple from Germany Cristoph Kies and Blanca Ribas-Turon. Couple from Russia Andrei Zaitsev and Anna Kuzminskaja got the second place.
Also couple from Slovenia Misa Cigoj and Alexandra Malai was very good too, they archieved third-place Results! Andrea De Angelis and Ekaterina Vaganova from Italy were next (4th). Honestly I thought Canada was not bad at all! (5th). I mainly chased the Canadian couple Anton Belyayev Karolina Paliwoda with my camera. They changed dresses. And lovely couple from Japan Masaki Seko and Chiaki Seko were number six. Photo below: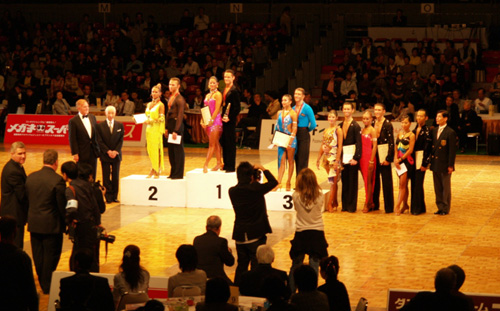 Beside Finalists I liked charming couple from Hungary – Csaba Laszlo and Anna Mikes. Some other pictures will follow. I was on the 2nd floor and too far away from the stage. Also I need more powerful digital camera because what I have is not good enough in such dark circumstances. A few photos dance of the German pair is there.
Actually I think 2006 Austrian Ten Dance Champion Vadim Garbuzov can do perhaps very good indeed in this competition, if he were there! I felt this time strongly that Vadim is quite super good! And it is a pity that he has to change partners often and I did not have pleasure to see his performance in the competitions this year.
I felt that dancers were much better in the world standard compeititon in Tokyo last time and it may be perhaps 10 dance competitors are not that good respectively in Standard and Latin separetely, I feel and more it looks they are of course balanced between the two, but not in any super better than the Standards or Latin champions.. , meaning Standard champions are much better in standard. Parade of competitors picture below: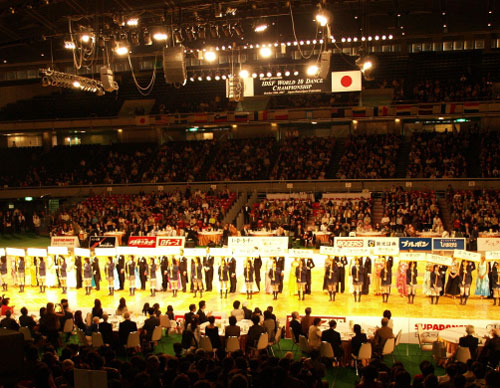 Preparation to parade of competitors photo, Japan, Tokyo, by Mr. Fukushima: