From Kaleidoscope Magazine: an article by Irina Fokina (modified web version) Harmonious Movement / April 2010 /
Irina Fokina, Vancouver – Viena. The origination of this article is fairly banal. In a short week after arriving in Vancouver on a working visa, I happened to attend a final round of ballroom dance competition. This was my first visit to a public event in Canada. It was then when I first saw the performance of Vadim Garbuzov, and I was struck by his clear and surprisingly harmonious movement. This make me recollect the exerpt of Maximilian Voloshin's essay The Meaning of the Dance, Dance – is the body's ecstasy just as the prayer in the ecstasy of the soul." Below are examples of Vadim's moves: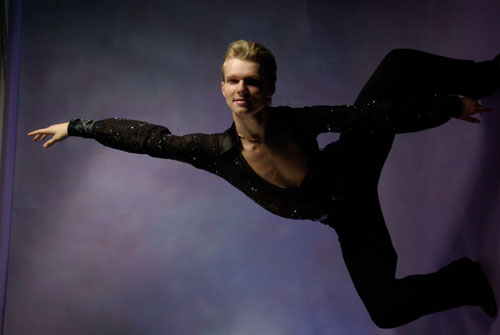 "Therefore, dance, in its essence, is the loftiest and the oldest of all arts. In the dance, outside the influence of words and outside the influence if instrument, a man becomes an instrument himself, a song and a creator, and all his body sounds a a timbre of voice… A perfect dance is crated when one's entire body becomes a sounding musical instrument and every sound of it bears a gesture…" – Maximilian Voloshin stated.
Nearly four years passed since then. I traditionally visited ballroom dance competitions in Vancouver but that first performance I memorized most explicitly. Thus I decided to find out where Vadim is trained right now, and how his dance career is going. After the short search I got prized number and call Vadim …to Austria…
I asked Vadim if he intend to come back to Vancouver soon. Of course, he answered, I try to combine my training with participation in dance life of my native city, Vancouver. You can find more details about the date and agenda on my website www.benom.com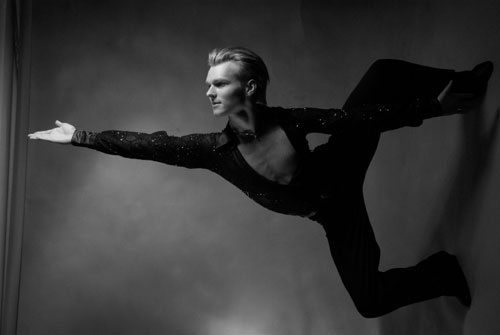 Dance accompanies the man throughout history and it is located on the border of arts and sports. However, particular style an International Program of DanceSport, with its competition system had been finally formed just some half a century ago.
"Though mostly under the influence of British choreographers, it included dance elements of all continents. Motion expressive means are parallel to the lingual. Steps can be compared to words, sporting events – to the dispute, the novel – to the stage action, and dance – rather to poetry due to its rhythm, ambiguity and emotional density.
People always expressed themselves through body movements to music. Such factors as competitive spirit, bodily beauty and performer's inspiration define attraction of the dance sport " Vadim says. Besides, in some circles ballroom dance because the popular social lubricant and the communication means. The dancers are usually mentally powerful, have good manners and understanding of the opposite sex.
How do you keep your focus on dance? The idea is that dancing improves through the overall personality development. Thus, working with personal psychologist would benefit any athlete, because presence of mental block or incompleteness would make the performance improve slower. However, I do not think that this is a common practice today. Typically, athletes take recommendations of all situations from their coaches. How to extract the maximum benefit from practice? The atmosphere and audience are important. The human is a social being, and the dance assumes a viewer. To have some people around, be they professionals, friends or just random people, is still better than dancing on your own.
What in your opinion is important to succeed in dance sport? First of all one needs talent for it. Not everybody can become a dancer, just like a scientist, an actor or a singer. A sole talent, however, is also insufficient. Often they say one needs rich riech to take lessons from the best coaches and to travel around the world. Certainly, money accelerates one's path to the top, but to become a real star, other components are necessary, that can not be bought. Dance is an expensive sport, and may athletes have to work hard to maintain their favorite occupation. Often, this is also not enough. Some enjoy their parents assistance for a long time. But what can be advised to those whose parents can not extend sufficient financial support? The answer is that money is not everything in file, and given fanatic desire, solution can usually be found somehow.
Vadim expressed thanks to all teachers, administrators and businessmen of dance industry, creating the infrastructure for dance sport development, building dance halls and organizing competitions and TV shows. I am sure in due time Vadim will make even greater contribution to dance development. He will also accept any suggestions or propositions by email dancewaydotcom@gmail.com
From Kaleidoscope Magazine: an article by Irina Fokina (modified web version)