Dancers are Now Dancing on Canvas! December 2009
In the past, you could decorate your wall with a photo of you dancing, or a painting of someone else dancing. Now, digital artist Andrew Sokol creates paintings of you dancing. This means that for the first time, dancers can have paintings of themselves, or someone they love, on the walls of their studio or home, or to give as a gift.
[google_ads]
Andrew Sokol has long appreciated the beauty of dance. That's why he now dedicates his talents as a digital fine-artist to creating the art of dancing on canvas: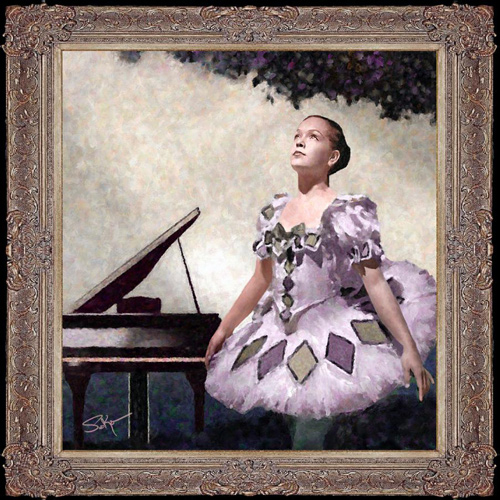 Working from ordinary photographs, Sokol creates works of art by painting on the computer. From ballroom, to salsa, from ballet to modern jazz, Andrew creates his paintings for dancers and performers, champions and amateurs, around the world..
His finished pieces are printed on canvas and embellished with hand-applied varnish brush strokes and acrylic paint accents. The results are remarkable and stunning.
"I love creating paintings of dancers because dancing is really posing in motion," says Andrew. "Dancers understand hand placement, weight distribution, the flow of the body, and even the movement of clothing. They express grace, and that's a great starting point for my paintings!"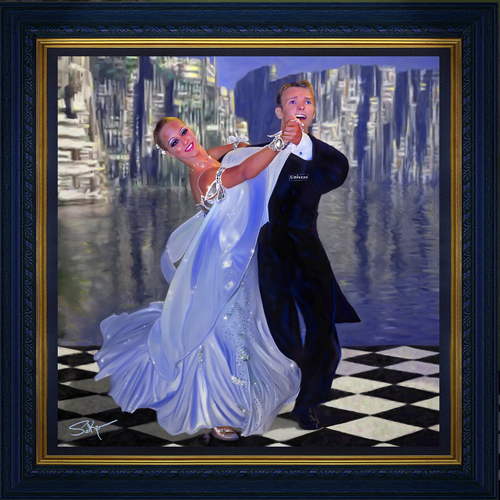 One look at his paintings and you see that Andrew does dazzling things with backgrounds, transporting dancers from a crowded hotel ballroom, to a tranquil seaside retreat, or from an ordinary high school gymnasium, to a colorful, abstract environment.
Don't be fooled. Even though Andrew's paintings are created on the computer, they take 40-60 hours each to create. Sokol uses no filters or automated special effects. Instead, he uses special programs and an electronic pen and tablet to lay down actual brush strokes, thereby turning ordinary photographs into stunning masterpieces on canvas.
Andrew has always been a visual artist. He had his own photography studio in Beverly Hills, California during most of the 1990's. But it was during the years 2000 thru 2007, while Andrew was living and working overseas in Europe and Asia, that he developed his skills as a Digital Fine-Artist. He would spend his evenings working late into the night, studying, practicing, and "playing" with the new digital art technologies that were just becoming available. It has taken ten years for him to fine-tune his craft and style. Now living in Los Angeles, Andrew creates custom paintings for dancers worldwide.
To see samples of Andrew's work, and the original photos the samples were created from, visit his website at: http://www.DancingOnCanvas.com/ To learn how you can have Andrew create a painting of you, contact him by phone at 661-257-4341.