Another Cousin in the Family of Dance by David McLeod
Dance is as natural as being born. I pretty much destroyed a mahogany hi fi between the ages of one and two by driving a dinner knife into it to keep time while dancing to "An English Country Garden". I used the other hand to hold myself up because, you see, I was dancing before I was able to walk. I never became a dancer. Sure, there was square dancing in elementary school and we learned to foxtrot and waltz in junior high, but…
[google_ads]
There's what I usually think of when I hear the word dance: i.e. contemporary dance. This is the stuff we will see articles on in the Georgia Straight and make up the bulk of what is offered during dance week in Vancouver. There are a lot of people in this, judging by the number of groups residing here. Then there's Ballroom dance – a huge phenomenon. There are some very big rooms in the lower mainland dedicated to instruction of it. Salsa is its own domain. There's belly dancing, pole dancing, tap, jazz, ballet; and then there's this other one: Flamenco.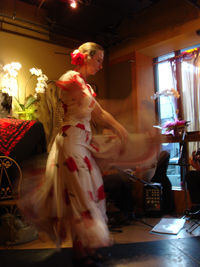 When my friend Pat told me that she had been studying flamenco dancing for a number of years I wasn't certain that I'd heard her correctly. "Flamenco in Vancouver", I thought? She invited me to take in an evening at the Kino Cafe on Cambie Street with her husband. I went and was literally driven back into my chair by the beauty, sensuality and ferocity of more than half a dozen powerhouse women dancers as they, by turns, took the elevated stage individually and in pairs and beat the hell out of the floor.
Nevermore lament the mystery of the whereabouts of beautiful women in their 30's and 40's. The place was packed all evening long; and looking around, it was a damn good looking audience too. There were a few men involved in the performance – a couple of dancers (One, an elderly Spanish gentleman, hard as a train rail, who sang as well.) and the musicians. Flamenco guitar is a very hypnotic and seductive thing.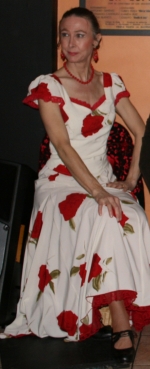 Patricia Keith. Sometime after that evening Pat invited me to a presentation by the school she studied with in Vancouver: Flamenco al Mozaica. I was asked to man a video camera to document the performance. I met a man there I'd worked with 20 years before when I was an actor and he was a script supervisor for a C.B.C. movie. He had been asked to take still photos of the event. Good things happen when you get out of the house and participate in life. The show was a lovely presentation, with everyone in the school doing a number from the newest students to the most senior instructor; in this instance Mr. Oscar Nieto. I spoke with Pat at her home in False Creek. She was my point of entry to this world within the city; my best angle.
An Audio Interview. Rather than transcribe this conversation from a recording to print, I submit the interview to you as an audio file you can click on to listen to: Click here to listen to an audio interview with professional flamenco dancer and instructor Patricia Keith Pat has devoted a lot of her time and effort in the last few years to Flamenco and I'm sure you'll find what she has to say interesting. The crackling sound you hear periodically is Pat's creaky chair. I was going to go to some considerable trouble to digitally remove the creaky chair and then decided against it. Have chairs no rights? Does no one stand up for the poor chair who lives it's life crouched and only gets pushed around and sat on? Not on my watch! (Note: It is illegal to reproduce this article without the expressed written consent from David McLeod & DanceWay.com Team)