Pick me up in Tango By Anita Moore / Or How I felt in love with a deficiency man /
We met in tango dance class. He was handsome, tender, soft, modest, even though he was trying hard he was hopeless on the dance floor. He was in his early forties, with an innocent child like look on his face; I felt a need to protect him.
[google_ads_dance-gorizont]
We went for coffees, movies, dinners, ballet classes… First I thought – this would be an exciting fling. Oh my goodness was I wrong! In one month I was head over heels in love with him. I was ready to give him everything I had. As I whispered into his ear "I love you" after passionate tango, he excuses himself and left me feeling frozen in time. I can't deny it I was crushed, to the point which I wanted to stop dancing in general. Instead of tango, name Christopher Waltz came to mind and his character in the movie Inglorious Bustard – cold blooded killer with a style and charm. In my case I felt that my dance partner destroyed my soul and all my hopes with his dreamy eyes.
I tried to convince myself that he is not a bad guy, just a shameless flirt that didn't know any better than to live his life seeking approval and validation from multiple woman. I wanted to show him how strong my love was for him by surprising him with a trip to the place of his choice. I knew that he always wanted to go to Europe, but postponed the trip because of the cost.
So I did something crazy, I sold my house for under market price (in two weeks) and after paying the realtor, lawyer and bank, I got the extra cash that I needed for the trip. The next step in my plan was to impress him. I purchased a new dress, and even had professional make-up done (the type brides do for their weddings) and appeared at his place of work (almost done construction house). I told him I wanted to take him on a trip of his dreams and that I would pay for it. His answer was, "are you stocking me?" Several things are not right!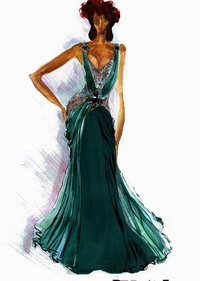 How could I forget that he works in a warranties department and in everything he looks for deficiencies? So I was presented upon request with a deficiency list of my character. And he did not want to bother, because that felt to him like more work after putting in a full days of work.
I was confused because of his tactics, he always repeated – "nobody likes me, because I do not have money." Only later I realized that it was his personal marketing scheme – to get all the ladies to show him that he is likeable. Anyways I do not want to be with ANY man that is not sure about me. I only become or remain intimate with a man when I am in an exclusive serious relationship. In any case looks like he found someone for a booty call, it was unfortunate that it was the only thing he wanted from me … he really missed out on getting to know a good person. (Note: It is illegal to reproduce this article without the expressed written consent from Anita Moore & DanceWay.com Team)
Ballroom (Standard) Routines – Tango Gold Routine/composition, etc. Back to the Articles

Visit DanceWay.com 2004 – 2005 DanceSport Articles Archieves