In the past, you could decorate your wall with a photo of you dancing, or a painting of someone else dancing. Now, digital artist Andrew Sokol creates paintings of you dancing. This means that for the first time, dancers can have paintings of themselves, or someone they love, on the walls of their studio or home, or to give as a gift.
[google_ads]
Sokol specializes in paintings for dancers because he says, "dancing is posing in motion. Unlike portrait posing, dancing is dynamic. Not only do bodies look beautiful, but the movement of clothes, hair, even expression, is changing and dramatic. Add to that the color and design of gowns and costumes, and you have the elements for remarkable paintings." Below are examples of Andrew's work:
Andrew's tools include state-of-the-art digital hardware and software. Using your photo as a basis, he lays down actual brush strokes with a computerized 'pen and tablet.' A hi-tech printing system called 'giclee' is then used to print your artwork on canvas. To make the painting truly custom, Andrew hand embellishes each print with brush strokes of varnish over the entire work of art. The finished piece is truly impressive.
One of Sokol's creative specialties is changing backgrounds; transforming the inside of a hotel ballroom or stage into a villa by the sea, a castle in the hills, or other scenes that transcend the ordinary, making the finished painting something magical. So magical in fact, that Sokol's paintings are used to decorate the walls of Champion Dance Shoes in Los Angeles.
Andrew is particularly drawn to the art of dance because he has a music background. Being a jazz drummer and singer, Andrew has a lifetime love of music, performance, and rhythm. What's more, being a fitness enthusiast, he admires dancers as being both athletes and artists.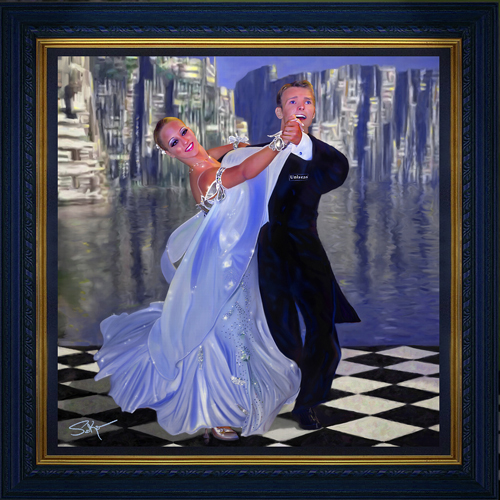 Sokol has always been a visual artist; starting with his degree in Television and Film Production, he went on to found an advertising agency where he served as Creative Director for ten years. Later, Sokol chose to focus on photography for his visual expression and began his own photography studio in Beverly Hills, California. Then, after a decade as a professional photographer, Andrew took time to travel and work abroad.
"It's amazing to think about," says Andrew, "this medium didn't even exist until recently. It was during the years I was in Europe and Asia that digital fine-art technology really blossomed. When I discovered it, I was instantly hooked. Now, six years later, I have mastered this new 'artistic technology' and am excited about creating paintings for dancers."
Sokol paints a variety of dancing styles in a variety of painting styles. "Ballroom, salsa, tap, ballet – oils, watercolors – traditional, modern. They all lead to beautiful finished pieces. "I also love creating paintings for parents of young dancers. A painting of a son or daughter dancing is not only beautiful and emotional, but so meaningful and such a wonderful family heirloom, " Sokol says.
A finished piece takes 6-8 weeks to complete. The cost is about the same as a dancer might pay a photographer for a retouched photo. Because each painting is custom, Andrew provides a price quote after he has helped his clients choose a photo and he's chatted with them about the kind of painting they might like.