DanceWay.com Classifieds: View
Double Dance Studio offers dance lessons for Children, Youths, and Adults
Dance studio for rent for dance and dinner parties, wedding parties and anniversaries, for dance lessons and rehersals. Tel. 676-922-3572 (mobile), 2215-2294 (studio)
Group Lesson: Monday 7-8pm on May 29, 2006
Standard lecture for 5 Euro a person and then practice 8-9pm for 3 Euro a person.
Private Lessons available upon request for 20 Euro till 6th May and 25 Euro after.
Dance Studio Address: A – 2301, Franzensdorf 32, Austria
(hardwood floor, high seiling, mirrows)   Email:  admin@danceway.zzn.com
Currently listed condo assignment for sale. Absolutely the best 2 bedroom value on the market today! Completion date: July 15, 2006. See 813 Agnes Street, New Westminster's, BC, Canada best concrete value!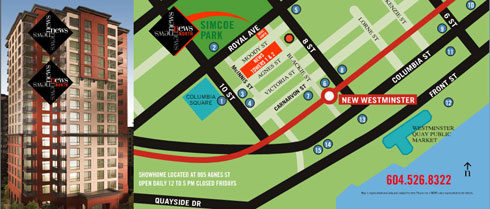 DW  Apartment for sale
Ideal for dancer, next to the Robson Square in downtown Vancouver, where the Summer Dance Series – free community event has been held every summer for the past 27 years!
The Great studio suite with Balcony – great view
The brand new condo atop the new Paramount Place theatre in a terrific, central location – Electric Avenue: 938 Smithe Street, Vancouver, facing North-West

Imagine living at Vancouver's most convenient crossroads, being foot steps away from everything that Downtown has to offer, the financial district blended with the luxury and convenience of Robson Street. What more could you ask for?

Some amenities at the Electric Avenue development by Bosa include, in suite laundry, roof top gardens, exercise gym, 18 seat theatre, meeting rooms, party lounge as well as a car co-op. Get in while you can, call 604-879-7505/604-817-7505
Features: 5 appliences. Great view, some ocean view. Parking stall, storage. This unit is available from November 1st, 2006. Price: $299.900. Floor Plan
Click here to see DanceWay.com Flyer
Inspired by a true story of internationally acclaimed ballroom dancer Pierre Dulane in the dance family drama "Take the Lead". In Theatres April 7, 2006
Partner Search: André Sousa Albino is looking for a latin partner
Email: Andre_Sousa@danceway.zzn.com
André Sousa Albino Date Of Birth 24-05-1990 I'm from Portugal, and I've got many 1st places here! My level: Intermediate Latin! I dance 7 years, well, I want to find a partner to dance here in Portugal, so, she need's to have family here in Portugal or have a home here!
My number is: 917327995. I am thankful to the DanceWay!
E-mail: dance_latin_377@hotmail.com (Contact me by the MSN!) The 12th Annual Grand Ball, Richmond, BC, Canada
We are pleased to announce that the 2006 SnowBall Classic International DanceSport Competition will take place on February 2-5, 2006 at River Rock Casino Resort in Richmond, B.C., Canada. Travel to Vancouver and experience the charm of the city, the best ski-hills in North America, and one of the world's finest DanceSport competitions — the SnowBall Classic, featuring the following competitions: IDSF International Open Standard, IDSF International Open Latin, IDSF Senior I Open Standard, IDSF North American Latin Championships, and Standard & Latin Formation Team Competitions – important deadlines to remember
Email to Brian Dudley at chair@snowballclassic.com
Fax (604) 925-5003 for more information.
DW1  The 12th Annual Grand Ball, Richmond, BC, Canada Results
The Grand Ball is a renowned international open DanceSport competition hosted annually by Andy and Wendy Wong at The Grand Ballroom.
This year's 12th edition – November 11th, 12th, & 13th, 2005
DW2  Benom.com
Keep your eyes open for Changes on www.benom.com web site!
The site is dedicated to Vadim Garbuzov and Kathrin Menzinger.
A lot of Canadians particularly from Vancouver know Vadim from dance practice,
competitions and school. He also has many friends in Europe since he went there
for competitions and took lessons with many known dance teachers.
So find out more about Vadim and his dance partner Kathrin at
www.benom.com and www.onlinevadim.com
DW3 The SA DanceSport web site!
Description of the SA DanceSport web site:
SA DanceSport is South Africa's premiere DanceSport website with the
latest news, results, entry forms and dance happenings in South Africa.
http://www.sadancesport.co.za
Before you go anywhere else, you've got to check this one out!
DW4 arbetov.com

This is an ethnic community magazine which will make life easier
for newcomers to Canada. The main purpose of our site is to help people
avoid unreasonable financial losses in Canada. We cover a broad range of
financial subjects and all of our contributors are licenced to practice
in Canada. The articles will be written in simple English which will be
understandable for people whose first language is not English. After each
article readers can ask questions, insert commentary, or add something
important regarding the article. The magazine is now in Russian and English
and in the future we will be covering the needs of more communities.
Editor Michael Arbetov, office: 604-875-8878, cellular: 604-726-2706
Location: #203-640 West Broadway, Vancouver, BC ,V5Z 1G4
Email: editor@arbetov.com
DW5 danceway.com has immediate openings for sales staff
This is a commission based position with plenty of opportunity for advancement to management position. DanceWay.com is an online advertising tool for dance related businesses and dance related products suppliers. Be part of the team that is leading the way. Editor: DanceWay.com Team. Phone: 604-879-7505. Mailing address:
www.danceway.com
#198-3495 Cambie Street, Vancouver, BC ,V5Z 4R3, Canada
Email:  info@danceway.com