Classes
Vancouver Studio: #2 – 4603 Main Street (at 30th), Vancouver, BC:

Dance classes with Irina Prodan-Yasel and Viktor Yasel, including 2 for 1 Dance Lessons for Beginners with C.D.T.A. Certified Teachers and Adjudicators in Vancouver ( Everybody Dance Studio, #2 – 4603 Main street at 30th Avenue, Killarney, Marpole-Oakridge and Renfrew Community Center, Collingwood Neighborhood House, and at South Arm Community Center in Richmond, BC, Canada, North America: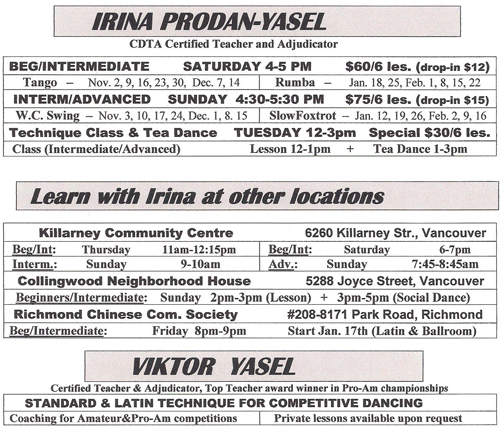 A PDF version of January 2014 dance classes schedule – Beginners, Intermediate, Advanced

Tea Dance for all levels – every Tuesday 1-3pm

Private and Semi-Private Lessons available upon request
Call now at (604) 872-8713
Quick Step Intermediate/Advanced Lesson – Man's part
Instructor – Irina Prodan-Yasel – Associate Member of CDTA:
Hesitation with Lounge end + Oversway action, Hover with right oversway ending, 4 Pendulum Hops with outside ending Fwd. Lock Step.